Your Guide to Steelhead Fishing on the Willamette River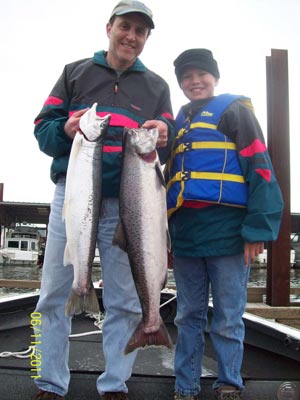 Steelhead are fighters and the best steelhead fishing on the Willamette River isn't the same from season to season. Though Steelhead gain access to the Willamette from the Columbia, understanding run patterns and timing isn't enough if you want a prized catch. You need a local WA & OR steelhead fishing guide that understands the Willamette, salmon, and how to put you in a position to reel in a stunning fish. That's exactly what you'll get when you call on Fish Hunters Guide Service.
Exceptional steelhead fishing starts with a local guide.
Winter and summer steelhead trout seasons involve fishing for the same species, but that's where the similarities end. Your guide Travis Coquette has decades of local experience, skill, and knowledge to guide you to a superior Steelhead catch no matter when you fish. He knows hatchery schedules like the back of his hand and has deep insight into the best places to catch Steelhead in the Willamette, and that's just the start.
Choose Our Willamette River Steelhead Fishing Guide For An Amazing Catch
As an Oregon and Washington fishing guide, Travis understands Steelhead. Every trip is customized and he tailors his work based on the fishing season and decades of practice catching these energetic fighters year-round. Whether you're scheduling a seasonal fishing trip or fishing for the first time, you'll be prepared for the best guided fishing trip on the Willamette.
Willamette River steelhead fishing preparation includes:
Every trip is carefully planned: The best place to catch Steelhead in the Willamette changes daily and seasonally. Travis maps every trip according to previous trip logs, current and expected fish runs, hatchery dates, and decades of hands-on knowledge of the river. If the weather isn't as forecasted, he can adjust accordingly to ensure you always have the best opportunity for a big catch.
Original lure and bait design: Hungry fish don't choose the same meals. It can vary due to season, time of day, location, weather, and more. That's why Travis has developed his own recipes and prepares them in advance. You'll be ready for anything because our WA & OR steelhead fishing guide makes sure of it.
The right rod and reel combination: Steelhead are combative. They have been known to tear rods away on a first pull and can leap upwards of six feet out of the water. We have put together rod/reel combinations specifically designed for these fish. Don't worry about being prepared, we'll make sure you are.
 Contact us to schedule your Willamette River steelhead fishing trip today.
Your perfect catch is waiting. When you want a premiere local steelhead fishing guide service captained by a Willamette River veteran, we're ready. Enjoy fishing for steelhead the way you want. Call or contact us today to schedule your guided trip now.
---