Columbia River Fishing Begins With The Guide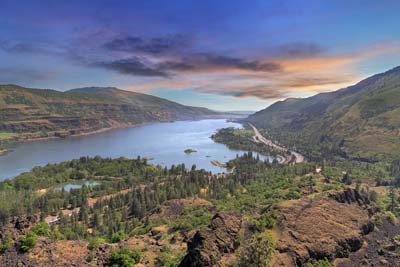 Fishing the Columbia River takes work, but with the right Oregon and Washington fishing guide, it can be effortless. With years of expertise, your Pro WA & OR Guide, Travis Choquette has made a career out of delivering sport fishermen the best experience available.  It all starts with careful preparation and planning to put you in the best position possible to take home great memories and a catch of a lifetime.  Whether it's light tackle side drifting and floating bobbers or back trolling baits, we can accommodate you.  Here at Fish Hunters Guide Service, we will always make suggestions on what's fishing best at certain seasons.  Please inquire if there's a fishery or technique you prefer!
Prepare for the Columbia River fishing tour of a lifetime
The Columbia River is home to some of the largest salmon runs in the world. With a vast population of salmon species and steelhead runs found up and down the Columbia all the way to Idaho, the fishing options are endless.
Travis has dedicated himself to the art of guiding clients to the perfect catch, and it has taken years of careful trip logging, technique testing, and lure rigging to set himself above his competitors.
Fish Hunter's Guide Service plans their trips months in advance. As your Washington and Oregon fishing guide, Travis studies salmon runs, hatchery release schedules, and previous trip logs. His decades of experience on the Columbia River and its tributaries lends itself to ensuring a great experience for you and your companions.
Travis personally prepares home-made bait, custom tackles, and unique rod and reel combinations. These recipes have been fine-tuned and personally assembled for your trip. Every trip is unique, but as an experienced Columbia River fishing guide, Travis knows what works. He can provide you with a fun, safe and well-prepared trip to give you the best chance and put you on the best runs the Columbia River and its tributaries have to offer.
Our Columbia River Fishing Guide Is Your Ticket To Catching:
Spring Chinook Salmon
Summer Chinook Salmon
Summer Steelhead
Fall Chinook Salmon
Fall Coho Salmon
Winter Steelhead
Sturgeon are catch and release only
Contact us now to book your favorite fishery
Fishing on the Columbia River changes with the season and we know every fisherman has his favorite. Travis has the experience and dedication to plan the perfect fishing trip for you, your family, and your friends. Whether you love Spring, Winter, Summer or Fall salmon fishing we'll make it the trip a lifetime. All it takes is a single phone call, so call or contact us to schedule your guided fishing trip on the mighty Columbia and its tributaries today. You can also check out our bouy 10 fishing guide!
---