Your Passport to Salmon Fishing on the Columbia River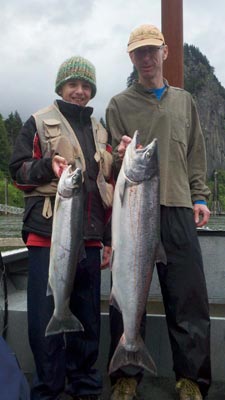 There are so many considerations to make when fishing for salmon the Columbia River. Should you stay in the main river or are fish biting in a tributary like the Lewis, or the Klickitat? It takes decades to acquire the knowledge to salmon fish the way you want and Fish Hunters Guide Service has it. As your salmon fishing guide for WA & OR in the Columbia Travis will guide you on a fishing trip like no other.
World class salmon fishing starts with the right guide.
Fish populations change drastically from season to season. Knowing where to go and what you'll need to land a gorgeous salmon takes skill, experience, and dedication to the craft. Travis Coquette has them all. Asa local WA & OR salmon fishing guide he's fished the Columbia River for decades. Knowing fishery schedules for hotspots like the Cowlitz, Klickitat, Lewis and Bonneville Dam is second nature, and that's just the beginning.
A Columbia River Salmon Fishing Guide For The Perfect Catch
As an Oregon and Washington fishing guide, Travis prepares for every single trip. He doesn't just know the Columbia River though, he adapts his methods to the salmon species available. They all have unique traits and tastes that Travis has the knowledge to capitalize on. That's why each trip is specifically customized for the fishers who book it. You'll enjoy the benefits of a dedicated salmon fishing guide on the trip, because every preparation is made before our boat even hits the water.
Columbia River salmon fishing season highlights are:
 Summer Chinook Salmon…
Known as June hogs for their historic size, this is another great fishery right on the heels of spring Chinook. We start targeting these hogs in June and fish through July. These summer Chinook usually average twenty plus pounds with thirty pounders being common. There are summer Chinook caught in the forty-pound class every summer with some reaching the fifty-pound mark. We target these hogs in the Columbia River from Cathlamet to Bonneville Dam. Their origin is an upper Columbia stock; their home waters are well past the tri-cities in the upper reach. We catch them in the lower Columbia River where they are chrome bright and full of fight. Hands down one of the nicest hardest fighting fish that swims.
Contact us to schedule your Columbia River salmon fishing trip today.
Your perfect catch is just a phone call away. When you want a local salmon fishing guide service captained by a Columbia River veteran we're always ready. Enjoy salmon fishing the way it was meant to be. Call or contact us today to schedule your guided trip now. Make sure you look at our Steelhead Fishing and Bouy 10 Fishing guide trips and book yours today!
---