Your Passport to Steelhead Fishing on the Columbia River
Great weather and great fishing is what's best about summer Steelhead. This is usually shorts and tee shirt weather, what could be better. We use light tackle and premium bait for these high-flying silver bullets. We start targeting these summer Steelhead in June and fish for them through July and August. These are fast moving, high jumping, and hard fighting fish. This fishery is definitely an experience you will not forget. These summer Steelhead average 6 to 12 pounds depending on the run and fishery.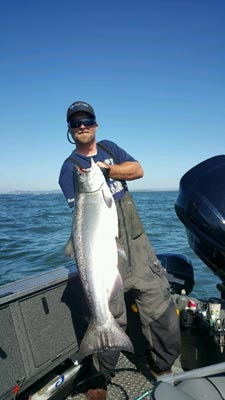 Later run B-run steelhead can average well into the teens with some reaching the 20-pound mark. Fishing these beauties on light tackle is pretty tough to beat. We target these summer Steelhead in the Columbia, Cowlitz, Lewis, and Drano Lake. It's not uncommon to hook 10 to 20 fish on these summer steelhead trips.  You want a local WA & OR steelhead fishing guide that understands steelhead, the Columbia, and how to position you to put big numbers in the boat and keep you on the fish.  That's what you get when you choose Fish Hunters Guide Service.
Superior steelhead fishing begins with the right guide.
Summer and winter steelhead trout seasons target the same species, but everything else is entirely different. Your guide Travis Coquette has the local knowledge, skill, and experience to guide you to an incredible Steelhead catch no matter what the time of year.  With hatchery schedules on the back of his eyelids and honed insight into the best place to catch Steelhead in the Columbia, Lewis, and Cowlitz, that's just the beginning.
---
Choose Our Columbia River Steelhead Fishing Guide For An Incredible Catch
As an Oregon and Washington fishing guide, Travis knows Steelhead. He prepares for each trip and tailors his efforts towards the season based on decades of experience catching these competitive fish year-round. Whether you're fishing for the first time or scheduling a yearly or seasonal sports fishing trip, you'll be ready to for the guided trip of a lifetime.
Columbia River steelhead fishing preparation includes:
Deliberate trip mapping: The best place to catch Steelhead changes regularly. Travis maps trips based on hatchery schedules, river conditions, trip logs, fish runs, and decades of local river knowledge when planning every Steelhead fishing trip.
Original bait and lure designs: Fish appetites vary per a wide range of factors. Travis has developed lures and baits specifically for Steelhead and put to use for your guided trip. Depending on water conditions, time of day, season, and weather the fish bite differently. Our WA & OR steelhead fishing guide makes sure you're always prepared.
Unique rod and reel combos: Steelhead are fighters. They can leap as high as six feet in the air and have been known to rip rods right out of a fisherman's hands. Our steelhead combinations have been honed over years of trial. The fish of the Columbia are ready for a fight, with our combos you'll be ready too.
Just some of the steelhead hotspots we frequent include:
Columbia River
Drano Lake
Cowlitz River
Kalama River
Lewis River
Contact us to schedule your Columbia River steelhead fishing trip today.
Your ideal catch is just a phone call away. When you want a local steelhead fishing guide service captained by a Columbia River professional we're ready to take you on the fishing trip of a lifetime. Enjoy steelhead fishing the way it should be. Call or contact us today to schedule your guided trip now. You can also check out our Bouy 10 Fishing and Salmon Fishing guides!
---