One of Portland's Premier Guides For Fishing on the Columbia River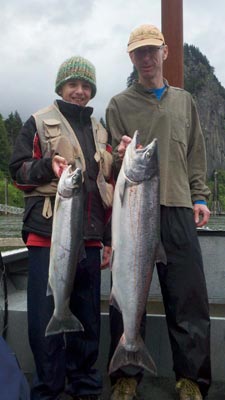 Don't let a lack of equipment keep you from experiencing an unforgettable day of fishing! Fish Hunters Guide Service supplies the best boat, tackle, gear, and guide you could ask for! Located just up the Willamette , the lower Columbia is rich with fishing hotspots and your experienced Portland fishing guide can take you to whichever ones you like.
Don't know where to go? Not a problem. Master fisherman, Travis Choquette has used the Pacific Northwest as his fishing hub for years. His primary territory currently lies in the waters between the Bonneville Dam and Buoy 10 near Astoria, both about an hour's drive in either direction from Portland.
Escape the hustle-and-bustle just a short distance from the city.
You won't realize how close you are to civilization out on the peaceful, open waters of the Columbia River. It's an ever-present force, carrying small tributary waters as well as those of the Willamette and Sandy Rivers to the ocean in an endless cycle.
Large populations of salmon, steelhead, and coho swim within those waters. Your guide has perfected the art of navigating to the spots most densely populated with these coveted species, bringing along his custom supplies and home-made bait to help you get the perfect catch.
A great way to entertain your out-of-town guests! Take them on a fishing trip they won't soon forget.
There are endless opportunities to camp, hike, and explore around the area, but imagine impressing your visitors with a trip down the Lower Columbia River with one of the area's most reputable fishing guides. Summer and Fall bring hordes of salmon and coho up the Columbia to its countless tributaries to spawn. Your captain is highly trained in navigating through the more technical areas of the river, guiding you and your guests safely to prime fishing areas.
Leave the planning and packing to us! Your vessel awaits!
This is no off-the-cuff adventure. Your guide will spend weeks poring over the details of your trip before you arrive at the dock, checking things like river conditions, weather forecasts, and fishing season records to help identify the best spots to find your preferred local species.
Coho are plentiful in both the summer and winter, whereas steelhead are a better bet in the colder months. To boot, Portland sits at the confluence of the Willamette and Columbia Rivers — the two largest spring chinook runs in the state. The much-coveted populations appear between April and June.
Upon arrival, expect to find your guide, aboard a 23-foot sled boat, awaiting you and your small group. The trip typically takes the better part of a day and weather conditions can change between the Gorge and Astoria, so it is recommended that guests bring:
Food
Drinks
Layered clothing
Rain gear
Contact us to schedule an exciting and memorable fishing trip today.
Check out our extensive photo gallery to get an idea of what our anglers catch during a typical tour along the Columbia. Our friendly guide has a proven track record of understanding guest expectations while prioritizing their time and safety. His approachability and patience create a comfortable atmosphere for all fishing skill levels. You won't be disappointed!
---